Paris (April 28, 2023). In their March 2023 product release, Sciforma announced a new workspace for the product's standard configuration: "Resource Fulfillment." This workspace provides project managers and resource managers the opportunity to manage assignments from an organizational vantage point.
"For a small organization where the PM could also be the RM, we wanted to give them the opportunity to manage their assignments from another point of view," said Sciforma Lead Developer, Vincent Amadieu. "Now, with the Organization view, the RM has direct, clear vision into a given resource's project assignments, and can fulfill or replace them with a click of a button. We have a lot of hope for what the Resource Fulfillment workspace can do for our clients."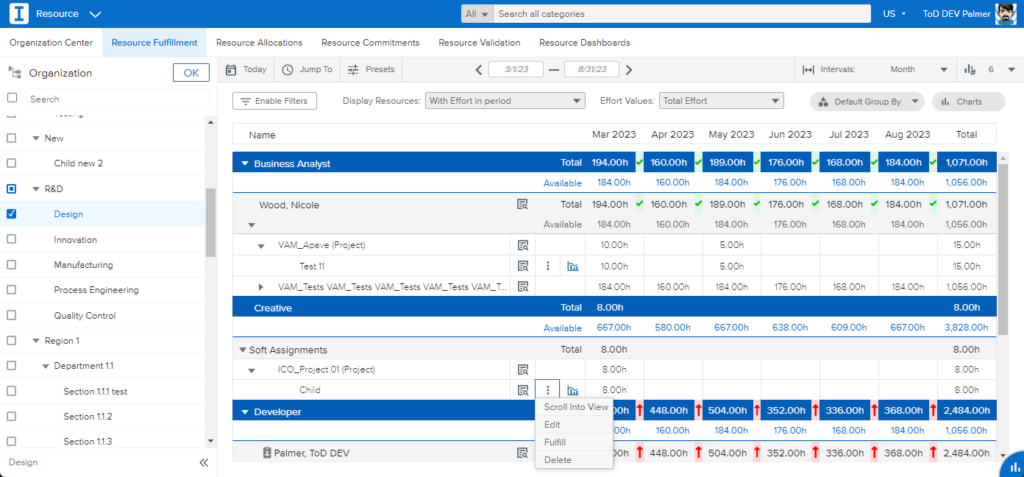 The creation of this Resource Fulfillment tab expands upon Sciforma's leading resource management capabilities. Prior to this release, project and resource managers could only manage resources on a Project level, meaning they had to manually select each assignment for a given resource to analyze capacity. By contrast, the new Organization view in the Resource Fulfillment workspace displays all Working Projects. This allows the PM/RM to fulfill soft or generic assignments or replace existing hard assignments more quickly and efficiently than ever before.
Effective resource and capacity management is critical for organizations' market responsiveness, operational efficiency, and more. With the right support, project and resource managers can gain insights into and control of projects, maximize chances of project success, and align stakeholders. No matter the resource management model, Sciforma PPM has a track record of success.
Sciforma customers span a wide range: from SMEs to divisions of some of the world's largest and most dynamic companies. To request a demo or further information about the Resource Fulfillment workspace, contact Sciforma. 
About Sciforma
Sciforma is one of the largest providers of Portfolio & Project Management software, delivering solutions to more than a quarter million users worldwide since 1982. Sciforma offers flexible and easy-to-use multi-platform PM and PPM software solutions. Businesses with multiple projects from multiple clients (including internally) must prioritize efforts bringing top results to the company. Consequently, the configurable Sciforma PPM solution provides project managers and executives the ability to analyze investments, plan capacity, manage risks, and control expenses better. In recent years, Sciforma acquired One2Team and KeyedIn, thereby reinforcing its PPM and Strategic Portfolio (SPM) management capabilities. For further information, visit: www.sciforma.com. Follow us on LinkedIn and on Twitter.