Key Takeaways:
A Project Management Office is of key importance for an organization. It will bring structure, effectiveness, and intelligence to Project Portfolio Management activities.
In order to unlock all the benefits from having a PMO, the organization needs to make sure it is supported by powerful tools enabling data visibility and by appropriate information about the strategy, and that it proactively embraces change.
According to a Project Management Institute study, 80% of high-performance organizations have a PMO. This is no accident. A Project Management Office is instrumental in solving the various pain points that may hamstring a company, boost business performance, and position it to grab new opportunities. The importance of PMOs is actually heightened as market conditions grow in complexity. Competing in volatile markets, keeping abreast of fast-paced technology innovation and meeting ever-changing consumer expectations all require a new form of business agility, which is precisely what a PMO will strive to drive.
Here is a summary of the key benefits that make a Project Management Office so important for an organization.

Standard Process and Governance
The foundational responsibility of a Project Management Office is to rationalize the methods and ways of working to manage projects and all related activities. Inconsistencies in project management get in the way of progress and performance assessment. They create information gaps, making it hard to impossible to get a clear view of the situation and to respond to the challenges and opportunities that may arise. A PMO standardizes all project-related processes and drives the establishment of common methodologies, techniques and performance metrics. It defines and implements the appropriate work standards and reporting structure, together with a methodology designed to maximize the chances of bringing the projects home within deadline, within scope, and within budget.
The PMO's project framework usually includes a Project Portfolio Management governance system defining clear ownership of each project activity and formalizing decision-making and funding mechanisms in order to enhance accountability. The PMO itself is a key part of this governance system. The very existence of a PMO provides structure to PPM activities as it serves as a central coordinator between diverse teams and programs, business lines or departments. All project teams, regardless of their place and role in the organization, regardless of their focus or area of expertise, relate to the PMO.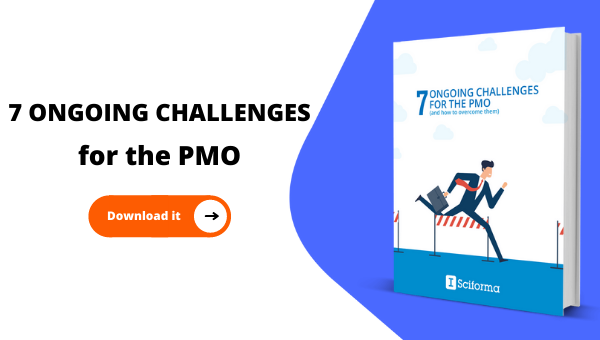 Institutional Learning & Skill Development
As the PMO standardizes processes and practices, it also acts as a center of excellence for the organization. Project Management Offices develop sets of documents and content for consultation and reference. They will consolidate that documentation into a knowledge base or repository, making sure it is accessible to all in order to support continuous learning and help the company's workforce grow and adapt to the times.
This body of shared information and institutional knowledge makes it easier to learn from past mistakes or successes by replicating best practices. It makes it possible to institutionalize learning and the sharing of relevant information across teams and projects. A PMO also maintains that information center over time as collective knowledge and experience accrue.
Besides, PMOs provide support, mentoring, coaching and training services to Project Portfolio Management populations in order to increase, update or hone their skills and improve their ability to deliver. They help manage talent, making sure that the organization can depend on qualified project managers and trained support personnel. As soft skills are increasingly important in business, the coaching effort moves beyond technical competency to include leadership and collaborative abilities. In particular, the PMO will support the development of collaborative delivery techniques and strive to increase communication, interaction and collaboration between geographically or functionally distributed workgroups.
Powerful Infrastructure & Systems
As part of its effort to structure business processes and activities, the Project Management Office ensures the use of a reliable and powerful information technology system to manage project activity. If warranted, it will choose and implement a new professional PPM software. Most PMOs these days favor cloud-based solutions that can be accessed anywhere, anytime, on any device.
Such project management systems centralize data and provide comprehensive, real-time visibility over what is going on with projects, sharpening the image of project and portfolio status and health. They also consolidate information about resource availability and future capacity, about interdependencies, and about risks and issues. All that data can be harnessed using advanced analytics, to speed up and improve decision-making.
Having reliable, high-performance IT tools is especially important to meet the needs and demands of the newer generations in the workforce, who expect state-of-the-art digital platforms with strong collaborative capabilities.
The PMO is also in charge of ensuring proper user adoption of the PPM toolset through training, communication and change management efforts.

Greater Productivity
Another rationale behind the acquisition of professional PMO tools is the need to automate activity in order to boost work productivity. A staggering 90% of all work activities performed in the office can be categorized as non-value added. Over the lifecycle of a project, the waste of time, energy, and resources is too significant to be ignored. Equipped with the appropriate software, a PMO enables automation of those non-value-added tasks and repeatable processes, which improves the productivity of project delivery.
That ability to automate anything and everything frees up and empowers project execution teams, limits errors and failures, and minimizes project cycle times. The organization can get products or services to market faster, ahead of competition, and consolidate its market position.
Efficient Resource Management
Truly optimizing project cycle times requires that the right resources, with the right competency, work on the most important projects at the maximum utilization rate. The PMO's framework and toolset play a key role in the optimization of resource allocation, assignment and management. Your PMO will devise and implement a standard process to assess resource availability, to build the right teams, to assign them appropriately and in a timely manner, to adjust resource plans, and then to perform ongoing analysis and trade-offs. Proper digital PPM tools also support the ability to perform impact analyses across multiple portfolios, helping optimize the allocation of limited resources in order to maximize delivery output and business value.
Improved Cost Efficiency
Automating low value tasks and maximizing the utilization rates of project resources across the organization will obviously drive labor expenses and cost structures down, making the business more cost competitive. Additionally, a PMO will greatly facilitate budget planning and tracking to ensure that every dollar is put to the best possible use. Based on a list of requests and planned allocations, the Project Management Office can make projections on project-related expenses, revenue and cash flows, running cost and budget scenarios at the level of the portfolio. Further down the road, it will re-evaluate the situation, monitoring and analyzing cash flows in order to facilitate budget trade-offs and adjustments.

Project Selection and Portfolio Building
Project selection should always be based on a set of expectations regarding the value of the project opportunities, their potential contributions to the firm, but also their impacts on resources and their risk profiles. A PMO brings superior clarity and a systematic approach to the project selection process. Well-defined priorities and criteria help evaluate the potential impacts of candidate projects for the portfolio and rank projects ideas and business cases. This is to ensure that the firm's limited resources work on the highest-yielding projects, and that the potential benefits from projects overcome the perceived risks. Leveraging data analytics that provide insight into project performance, the PMO can also determine which active projects to defer or even terminate. It can, potentially, substitute new projects for failing initiatives.
Project Management Offices also focus on building solid and consistent project portfolios, with good balance between various types of projects, taking into consideration the overall impact on budget, resources and benefits. Sophisticated software tools supporting portfolio ranking enable selective weighting and can even include portfolio simulation capabilities that make it possible to create multiple "what-if" scenarios and compare various versions of the future of the portfolio.
Strategy Enablement
Project resources, budgets, schedules and scopes are unmistakably important. However, the best definition for project success really is business alignment. More than operational excellence, it is the key criterion that should guide project selection. Organizations and companies are driven by a vision, which is materialized through strategic directions and a set of outcomes, goals and objectives. Those can be quantitative, or more qualitative in nature (launching a new product, achieving digital transformation, supporting a new service, etc.).
Mature PMOs make sure that the projects are and stay aligned with the strategic priorities of the business. They will evaluate the expected value and benefits of the projects against that strategic horizon and give priority to the projects and initiatives that best support the company's directions. In a top-down approach, your PMO ensures that the projects or programs are executed in a way that helps realize business objectives. It will assess and optimize initiatives or investments from a strategic viewpoint. At the same time the PMO will also drive bottom-up strategy alignment, ideating initiatives out of the need to deliver on a strategic goal, selecting and prioritizing business-aligned opportunities.

Setting up a PMO is not all: you have to do it right. You need to make sure your PMO protects and contributes to the future of the enterprise.
The Right Data
For the PMO to achieve decision-making clarity, it needs the support of reliable, up-to-date information. Data about project ideas, requirements, opportunities, benefits and risks should be consolidated and readily available in a central, unified database, with audit trails for the sake of traceability.
This is the reason why successful PMOs typically adopt a single unified information system for project management instead of dealing with clusters of tools. And that's not mentioning Excel sheets, which are still too prevalent in Project Portfolio Management spheres although the tool was clearly not designed for data consolidation. Obtaining the right data requires selecting the right technology partner. PMOs need solution tools providing the ability both to get a comprehensive overview of all project portfolios and to drill down in detail when necessary. Strong analytics capabilities to make the data speak are also a prerequisite for the Project Management Office to harness the power of information.
A Change-Enabling Mindset
Data visibility and predictive analytics enable business agility, which may be defined as "rapid, continuous, and systematic evolutionary adaptation and entrepreneurial innovation directed at gaining and maintaining competitive advantage". In other words, business agility is the ability of an organisation to adapt rapidly to market changes and customer demands in order to compete on multiple fronts (innovation, price, customer experience, operational efficiency, and so on). Such agility is increasingly important in the digital age, as constant changes in the technology landscape and consumer markets are causing the life expectancy of strategic plans to shrink.
Who better than the Project Management Office to champion business agility? As they coordinate various projects across the organization, as they enjoy a clear view of what is going on in diverse departments, PMOs are in the best position to make sure the firm adapts swiftly to changing market dynamics. However, this requires the PMO itself to embrace a change-leadership posture. Providing standard processes and a structure is well and good — it is actually quite indispensable — but today's PMOs cannot stay confined to controlling, administrative activities. They should also be enablers and facilitators of innovation and organizational transformation. For some existing PMOs, that would demand a cultural shift.
A Clear Vision of the Strategy
In order to achieve strong alignment with the organizational strategy, PMOs need to see and understand it. This is why they need to establish and maintain solid bonds and lines of communication with senior, C-level executives.
As your PMO delivers insights and feeds valuable reports to decision-makers — a mature PMO can actually act as a "Chief Insight Office" — it has the opportunity to demonstrate its value to C-suite leaders and secure their support and validation. This will ensure that your PMO has a clear line of sight to the strategic roadmap of the enterprise and can take appropriate action to support it. This will also bolster the influence of your PMO and boost its ability to inform decisions and help shape the organization's future.
From process standardization to change enablement, from talent management to resource efficiency, the reasons why the support of a PMO is so important for an organization are countless. PMOs have actually proved of such value to businesses that we are currently seeing the rise of EPMOs — which are mature Project Management Offices at the enterprise level. According to Gartner, 50% of large organizations will have integrated disparate business and IT PMOs into EPMO hubs by 2021.
Suggested reads:
Understanding PMO Maturity in Your Organization
The Role of the PMO in Project Portfolio Management
Your PMO's value: show it in your organization.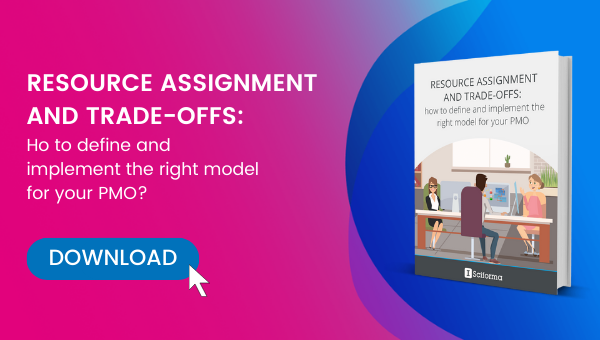 Taglines: #sciforma #PPM #PMO #projectmanagementoffice #projectportfolio #projectmanagement #strategy #software #innovation #enterprise #projectportfoliomanagement #spm #success #leadership #awards #agile #waterfall #decisionmaking #scrum #businessagility #pmocorner #portfoliomanagement