The PPM tool market is crowded, including enterprise softwares, strategic portfolio management solutions, and work collaboration systems. And then some organizations cobble their own solution together using point tools for things like reporting, document management, workflow, and application integration. With all this in mind, it may seem like many of the vendors on the market are offering very similar if not the same thing. So without clear evaluation criteria, it can be difficult to decide on the PPM tool that's best for you.
The good news is, if you're reading this, you've likely already identified some key business drivers and pain points that can be addressed through PPM process automation Cloud/software. This post segments your options into four categories and describes the scenario in which each makes the most sense. Together, they represent a complete solution landscape that can steer you in the right initial direction.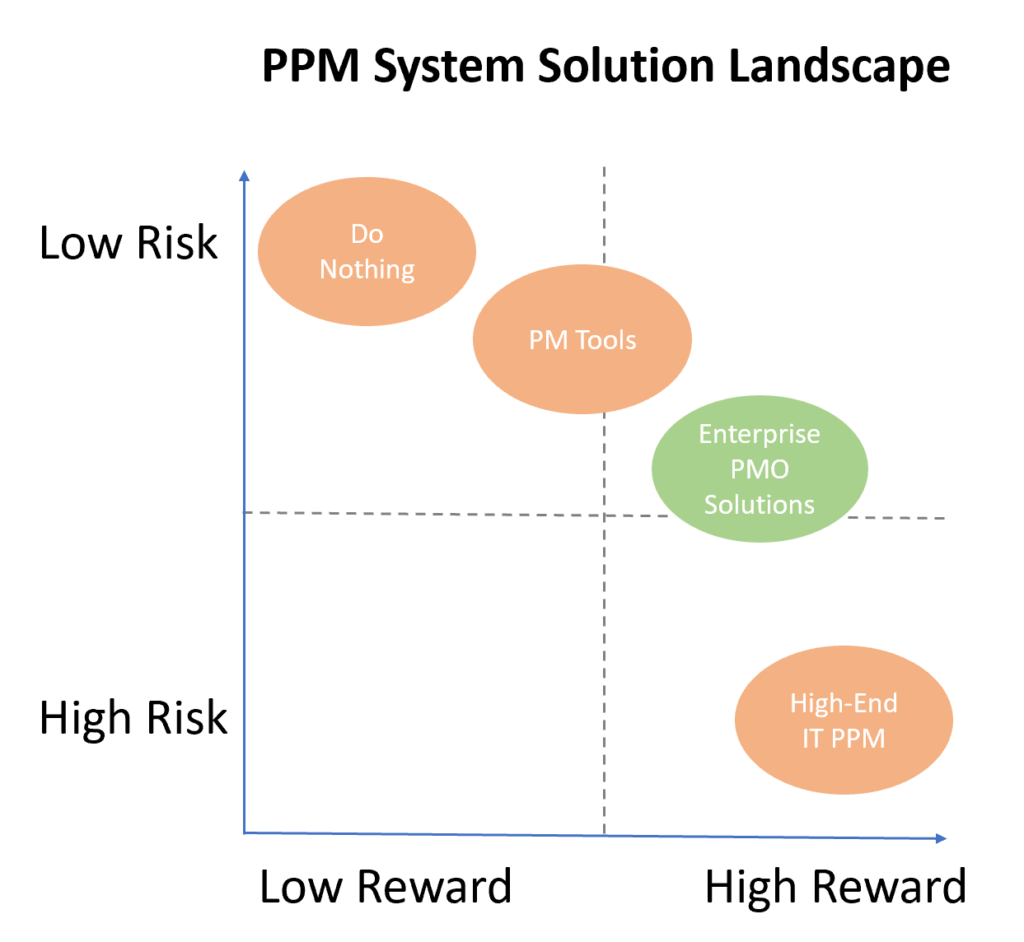 Status Quo – Classic Project Portfolio Management through Desktop tools
Of course, you always have the option to do nothing. We would be remiss in not including it since it is the most popular course of action. And, many times it is the appropriate option. By "do nothing" we assume you have not yet invested in a PPM system. Further, it assumes you rely on a combination of desktop tools (MS Excel, Project, PowerPoint) to track projects and create reports; email for workflow; and share drives for document management. If your organization completes a relatively small number of repeatable projects and/or you just don't have the budget to invest in a purpose-built tool, sticking with what you have may be a rational course of inaction.
Project Management Tools – Collaborative Project Team Softwares
This option works for organizations focused on facilitating collaborative project team execution. The priority is ease of procurement, adoption and use, as well as achieving the fastest business impact and ROI. These organizations are less concerned with functionality robustness. They are also willing to forego having a clear growth path in areas like resource, portfolio and financial management. As such, they are not designed to transverse the spectrum of PPM maturity levels. If formal structure project management is not a mission-critical core competency and Total Cost of Ownership (TCO) is a major concern, these pay by credit card options are attractive.
Enterprise PMO Solution – PPM Solutions for Project Management Offices
This option assumes there is a PMO or formal project management function in place. It provides a flexible platform for planning and executing multiple project types, such as IT, NPD, and Capital Projects. Enterprise PMO solutions provide a growth path for organizations at different levels of maturity. They provide a balance of usability and robust functionality in areas like project, program and portfolio planning, and executive reporting. Engaging with enterprise PMO solutions usually involves investing in more of a strategic partnership rather than a transactional relationship with a PPM vendor.
High-End IT PPM – Project Portfolio Systems for organization with process maturity
This approach suits organization with a high-level of IT PPM process maturity that seek the most robust/granular functionality that are particularly important in IT project-focused environments. This includes the most sophisticated resource management and capacity planning functionality, as well as dashboard. Consider this approach if you are looking for the most functionally advanced solution for IT PPM and you have ample flexibility in terms of budget and time-to-deployment.
What's the best PPM software for my company ?
There are several solution options available to you for digitalizing and automating key project and portfolio management processes. Some solutions provide a quick fix but no growth path for teams planning to mature their teams and processes. Other high-end solutions may be too expensive and take to long to implement to achieve user acceptance and realize the benefits of the more complex functionality.
For most project management offices or functions, Enterprise PMO platforms like Sciforma, provide an optimal balance of usability and robustness, and portfolio-level and project-level capabilities. As a result, solutions like Sciforma, often make the most sense from a technology deployment risk-reward perspective.
Next Steps : Select the Right PPM Partner
For more information on PPM tool evaluation criteria, read the complete Buyer's Guide eBook entitled: Selecting the Right Partner.