Because project ideas and demands root the PMO life cycle, the way you manage project intake determines the potential value of project activity across your organization.
Upstream of execution management, investments go toward the highest-value projects via proper selection, prioritization, and management of project demands. Those that can be carried out in the most efficient way, for maximum ROI, and above all those that contribute towards strategy execution: for example, projects that help achieve business goals, projects with the potential to trigger desired organizational change, or to advance the enterprise's roadmap for development.
In order to maximize project investment value, the PMO needs the support of a well-thought process, but also of a professional project portfolio management tool with a range of capabilities for managing ideas and demands.
Here is an overview of what you could get from a PPM software such as Sciforma.
Improving Intake Management and Project Demand Selection
Seldom are organizations lacking ideas for new projects. On the other hand, the human, technical, and financial resources required to bring those ideas to life are typically constrained. So you need a well-oiled system to help identify the most promising project ideas and demands – within an acceptable level of risk.
To this end, a PPM tool will consolidate all project demands across your organization's departments and entities in a single place. This encourages more collaborative and inclusive idea sharing and collection practices, but most of all it makes it much easier to separate the wheat from the chaff.
As project managers gather and standardize project demands, they compare them around common description and scoring formats. The PMO can then easily assess the ideas, sorting the good ones (for further exploration via a business case) from the not-so-good ones. The tool will display connections, for easier management of interdependencies and constraints.
All relevant stakeholders have easy access to a pool of constantly updated project demands, opening the door for more collaborative management practices without compromising on objectivity and consistency.
Terrena, the leading multi-purpose agricultural cooperative in France, has used Sciforma to improve a range of project management activities, including project selection. As the group had engaged in a far-reaching transformation initiative, the IT Office was faced with a massive inflow of project demands from Terrena's many member companies. It was essential to assign limited resources to the most relevant projects. Sciforma's demand management capabilities allowed them to cooperatively assess the strategic value of projects in order to decide which to pursue.
Learn more about Terrena's journey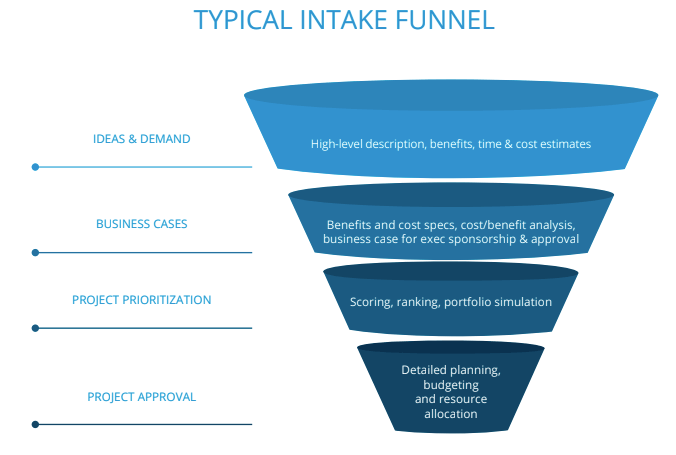 Improving Project Demand Prioritization and Tradeoffs
Once you have identified and picked the fertile ideas, you need to figure out which ones should have priority. Here again, resource scarcity forces you to make a choice!
A PPM solution will support the PMO with advanced evaluation capabilities to refine assessment of potential projects. These include dynamic scoring capabilities to drill down into business cases, and the ability to sort and rank them against key performance indicators, including budget and financial metrics.
A project management tool with dedicated demand management capabilities also offers configurable templates to help evaluate and plan different types of projects, with specific description fields and scoring criteria, along with default project deadlines, milestones, and resource requirements. It will also provide project teams with a library of reports, KPIs, and standard methodologies.
Everything is designed to give the PMO a comprehensive overview of project demands and business cases to support sound, consistent decisions. A tool providing clear, visual dashboards and analytical reports will make decision-making and management all the easier.
For Liège's Intermunicipal Center for Specialty Care (Intercommunale de soins spécialisés de Liège, ISoSL), managing project demands in Sciforma has significantly improved project intake and workflow. Executive leaders can now make insightful tradeoff decisions based on fresh, quality data. Better and timelier decisions have translated into accelerated project completion and improved strategy alignment.
Read more about ISoSL's experience with Sciforma.
Managing Project Demands at the Portfolio Level
There is no such thing as a totally standalone project – if only because of shared resources across initiatives. Sciforma makes it possible to manage collections of projects, as portfolios or programs. The tool's idea and demand management capabilities give PMOs the ability to assess the relative strengths, weaknesses, opportunities, and threats of performing a wide range of activities related to a grouping of projects.
Capabilities include n-to-n connections between ideas, business cases and projects to increase visibility and transparency, for a complete picture of the project portfolio life cycle. As a result, the PMO can assess project demands against the make-up, health, risk profile and strategic fitness of the overall portfolio, while taking into account constraints and dependencies across projects.
The simulation of multiple 'what-if' scenarios across one or several portfolios makes it possible to assess the overall impact of various shifts across various domains, against various criteria; these simulations can be compared both against each other and against live projects to maximize insights.
In addition to selecting and prioritizing the projects with the best potential, such tools also allow the PMO to re-assess and re-prioritize in-flight projects to adapt to organizational or market changes.
Retraites Populaires, a leading provider of life insurance and occupational pension products in Switzerland, has made Sciforma the go-to for everything project-related. As a result, vast improvements in project selection and prioritization have propelled portfolio management into a whole new era of insights and strategy alignment.
Discover the success story of Retraites Populaires.
Optimize your Project Demand Management Now!
Since idea and demand management is what determines the potential value from project activity, it is of crucial importance for PMOs to make sure they have the means to optimize it. You need a sound and clear process, but also a robust project portfolio management tool offering all the capabilities required to achieve data-driven decision-making.
Find out more about Sciforma, request your demo.