How to Optimize Corporate Portfolio Management With a Solid Governance
Key Takeaways:
A portfolio governance system provides a set of processes for collecting, assessing, ranking, monitoring, and managing all potential projects. The goal is to help managers and executives make informed decisions and maximize value.
Your PPM governance should include a responsibility assignment matrix, a PPM glossary, a set of standard metrics, and a range of procedures and criteria for decision making. It is a good idea to consolidate these into a formal Project Portfolio Management charter.
The support of a good portfolio governance — which encompasses all the processes used by an organization to oversee the management of its project portfolio — is of vital importance to preserve the value of project activity. It is all about providing the right information to the right people, at the right time and to empower them to make the right decisions. It also ensures consistency and replicability in Project Portfolio Management activities.
What is Project Portfolio Governance?
Corporate governance is defined as "the structure of rules, practices, and processes used to direct and manage a company." Not dissimilar, project portfolio governance refers to the standards and mechanisms that determine decision-making authority and accountability when it comes to managing a project portfolio.
Proper portfolio governance should include provisions and guidelines for managing every phase and aspect of the projects in the portfolio. This includes demand management and project selection, as well as execution monitoring and project tracking. The goal is to support both operational managers and higher-level decision makers in the selection, prioritization, planning, scheduling, and management of their projects. By doing so, you maximize value for the organization.
As an end-to-end framework for project- and portfolio-related decisions, a well-structured governance system also codifies the way project stakeholders communicate, collaborate, and exchange relevant information.
Objectives and Benefits of a Great Portfolio Governance System
An effective portfolio governance management usually translates into:
Clear definitions of the roles, responsibilities, and accountability of everyone involved
Compliance to legal, regulatory, ethical, and policy standards and requirements.
Improved cohesion and alignment across teams and stakeholders, amongst other things thanks to conflict resolution mechanisms
Enhanced visibility to the project activity thanks to clear reporting
Greater organizational flexibility and responsiveness, as the governance system also provides guidelines regarding the adaptation of the process to changing needs or requirements
How to Define and Implement a Project Portfolio Governance System
1. Determine portfolio ownership and accountability
Determine the roles and responsibilities that will be assigned to internal and external stakeholders. The idea is to paint a clear picture of:
who should green-light the launch of a project and its incorporation into a portfolio
who should have authority over the decision to halt or postpone a project
who will control the overall budget
who will ultimately take responsibility for the outcomes of the projects and the technical and financial performance of the portfolio
Key stakeholders in the governance process traditionally include a Project Management Office that is responsible for project oversight and monitoring and for proper application and enforcement of the PPM process. Additionally, a PPM Steering Committee (or Governance Council/Board), usually bringing together senior managers from the operations and strategy side, can be created to aid in establishing priorities and criteria for decision making.
2. Establish a framework for effective communication and collaboration
In order to align all stakeholders and make sure they speak the same language, your portfolio governance should include a set of standard terms and metrics to be used across teams and business units throughout the PPM process.
3. Define formal criteria and procedures for project- and portfolio-related decisions
The selection of any project for your portfolio should be based on a realistic appraisal of its potential value for the company while taking into account the projected use of the organization's resources. To do so, you need formal processes with clear rules to review, assess (cost and benefits estimates), approve, and prioritize project ideas based on established criteria.
Similarly, you need a set of policies and criteria governing the way your teams manage project execution, monitor progress, and make decisions to adjust the portfolio (e.g. trade-offs, delay or termination of projects).
4. Consolidate your rules and process into a PPM Charter
The purpose of a Project Portfolio Management charter is to get everyone on the same wavelength. Your charter should clarify the mission statement of your PPM and set long-term goals and objectives. It should also detail the sets of policies, standards, procedures, and best practices that you've defined as a PPM governance system, so that everyone involved in Project Portfolio Management activities across the enterprise can use it for reference.
More resources about Project Portfolio Management: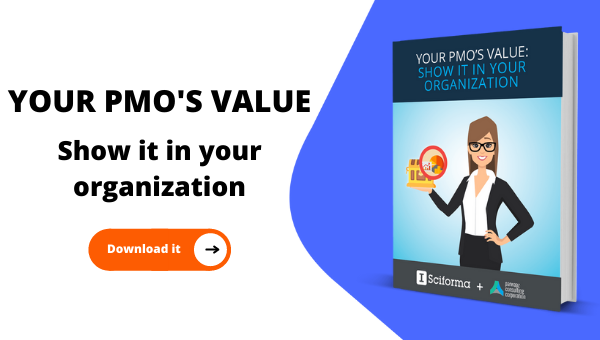 Taglines: #sciforma #PPM #PMO #projectmanagementoffice #projectportfolio #projectmanagement #strategy #software #innovation #enterprise #projectportfoliomanagement #spm #success #leadership #awards   #agile #waterfall #decisionmaking #scrum #businessagility #pmocorner #portfoliomanagement