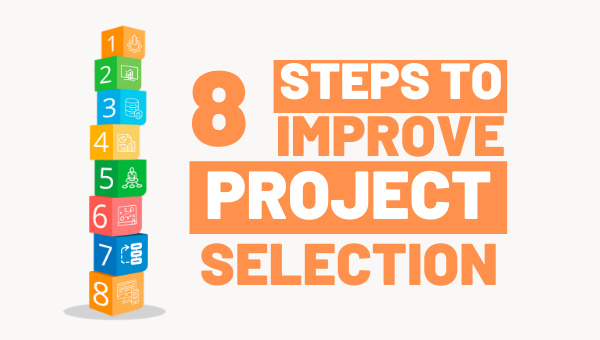 Whether in an executive or advisory capacity, the PMO plays a key role in selecting and prioritizing projects. Perfect project execution is useless if you work on the wrong project. In this blog post, Sciforma explains the 8 steps for the PMO to improve project selection.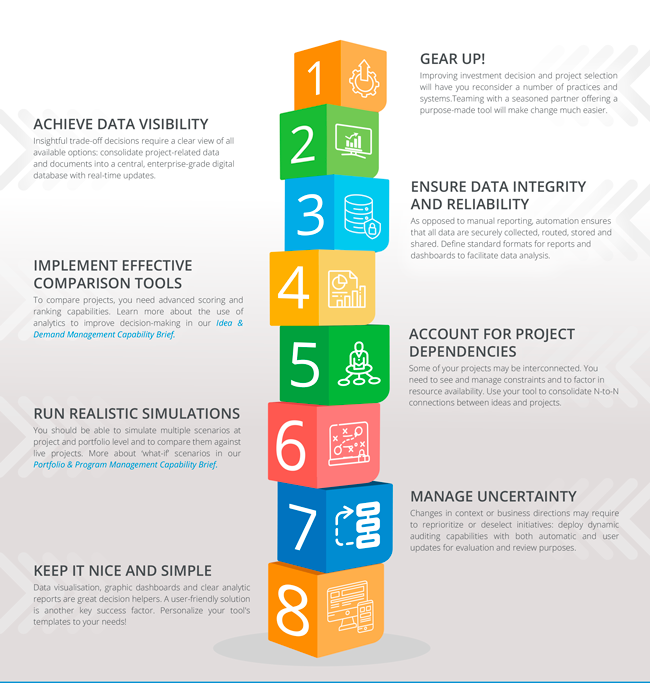 Click here to zoom in or download the infographic.
How to improve project selection
Best-in-class projects are defined by solid ROI, but also by relevance to the business strategy. By identifying and nurturing such business drivers, the PMO can maximize value for the organization and prove itself a strategic asset.
1: Gear Up!
Improving investment decisions and project selection will have you reconsider a number of practices and systems. Teaming with a seasoned partner offering a purpose-made tool will make change much easier.
2: Achieve Data Visibility
Insightful trade-off decisions require a clear view of all available options: consolidate project-related data and documents into a central, enterprise-grade digital database with real-time updates.
3: Ensure Data Integrity and Reliability
As opposed to manual reporting, automation ensures that all data are securely collected, routed, stored, and shared. Define standard formats for reports and dashboards to facilitate data analysis for better project selection.
4: Implement Effective Comparison Tools
To compare projects, you need advanced scoring and ranking capabilities. Learn more about the use of analytics to improve decision-making in our Idea & Demand Management Capability Brief.
5: Account for Project Dependencies
Some of your projects may be interconnected. You need to see and manage constraints and factor in resource availability. Use your tool to consolidate N-to-N connections between ideas and projects.
6: Run Realistic Simulations
You should be able to simulate multiple scenarios at project and portfolio level and compare them against live projects. More about 'what-if' scenarios in our Portfolio & Program Management Capability Brief.
7: Manage Uncertainty in Project Selection
Changes in context or business directions may require reprioritizing or deselecting initiatives. Deploy dynamic auditing capabilities with both automatic and user updates for evaluation and review purposes.
8: Keep it Nice and Simple
Data visualization, graphic dashboards, and clear analytic reports are great decision helpers. A user-friendly solution is another key success factor. Personalize your tool's templates to your needs!
Want to know more about project selection ?
Download our ebook "Optimize Project Selection Quality".